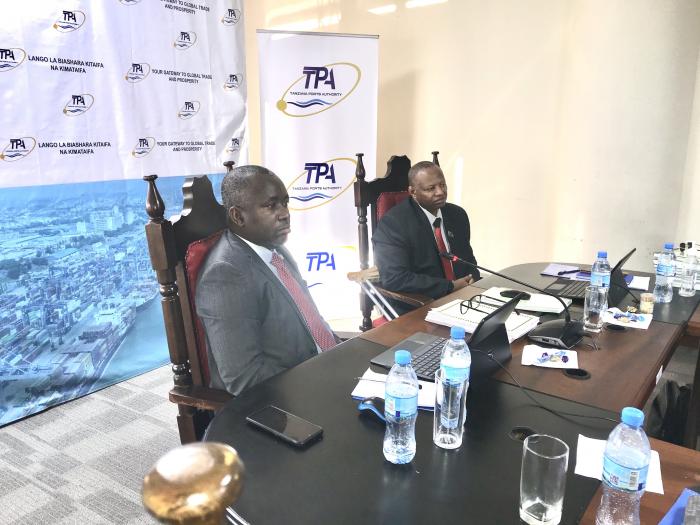 The Tanzania-Zambia Railway Authority (TAZARA) Board of Directors, comprising the Permanent Secretaries responsible for Transport in the Republic of Zambia and the United Republic of Tanzania, Mr. FredrickMwalusaka and Mr. Gabriel Migire, Chairperson and Co-Chairperson, respectively, together with Mrs. Irene Mwamba Lumbwe and Mr. Musokotwane Sichizuwe, Board Members from Zambia, and Prof. Razack Lokina, representing Board Members from Tanzania, held the 119th Board of Directors' Meeting on 27th May 2023, in Dar es Salaam, Tanzania.
The Board of Directors deliberated on various matters pertaining to the operations of the Authority and agreed on the following key resolutions, amongst others.
Annual Budget for the Financial Year 2023/2024
The Board considered and approved Management's proposed annual budget of 350,000 metric tons of freight traffic and 3,480,000 passengers for the financial year 2023/2024. A total income of USD 52.40 million is projected to be generated from various activities, broken-down into USD 28.43 million from freight, parcels, and passenger traffic, USD 12.47 million from Shareholder subventions and USD 11.50 million from other sources, including Open Access fees.
Survival Plan
The Board observed the liquidity and operational challenges faced by TAZARA especially in the aftermath of the closure of the Chambeshi Bridge in Zambia, from October 2021 to September 2022, and therefore, approved Management's proposed Survival Plan with a financial outlay of USD9.04 million, which is envisaged to stabilize the Authority's operations in the next two years, whilst a long-term investment plan was being pursued. 
Engagement of Chinese Investors
The Board reviewed the progress made in the process of inviting investors from the People's Republic of China as agreed by the Tanzanian and Zambian Heads of State at their meeting in Dar es Salaam, Tanzania, in August 2022 and as further guided by the TAZARA Council of Ministers at a meeting held in Lusaka on 14thMarch 2022 and observed that so far the two Countries' Technical Committees had concluded their position papers and made recommendations for consideration by their Steering Committees of the respective countries and, thereafter, the Committees of Ministers. After merging the countries' positions, tripartite meetings with the Chinese Investors would then follow.
Open Access Operations
The Board commended Management for successfully engaging a second Open Access private operator, Africa Inland Container Depot (AFICD), a development which was expected to increase the volume of traffic moved on the TAZARA line and revenue earnings to the Authority and benefit the Tanzanian and Zambian economies at large by reducing congestions on roads and injecting efficiencies in the movement of goods on the Dar es Salaam Corridor.
Done at Dar es Salaam on 27 May 2023